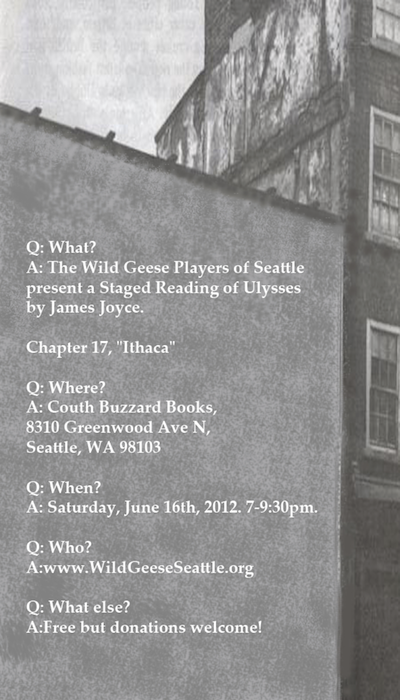 The Wild Geese Players of Seattle will present a staged reading of Chapter 17, "Ithaca", adapted from the 1922 edition of James Joyce's Ulysses, on Saturday, June 16th, 7–9:30pm, at Couth Buzzard Books, 8310 Greenwood Ave N, Seattle, WA 98103. Donations towards costs of room rental, posters, and props are welcome.
We had a successful reading of the Eumaeus chapter last year. We continue with the Ithaca chapter this year.
Ithaca
In the previous chapter, Eumaeus, Leopold Bloom took a very drunken Stephen Dedalus to a cabman's shelter to sober up over a cup of coffee.
Bloom returns home to 7 Eccles Street with Stephen, around 2am. The two men discuss a wide variety of topics. The episode is written in the form of a rigidly organized catechism, and was reportedly Joyce's favorite episode in the novel. The style is that of a scientific inquiry, with questions furthering the narrative. The deep descriptions range from questions of astronomy to the trajectory of urination.
Read the text of the chapter here.
Some commentary on the Ithaca chapter:
We encourage you to download Ellen Coyle's Ithaca poster (PDF, 1.3MB) and post it around town.
Other Events
See our archives for details of our previous readings.