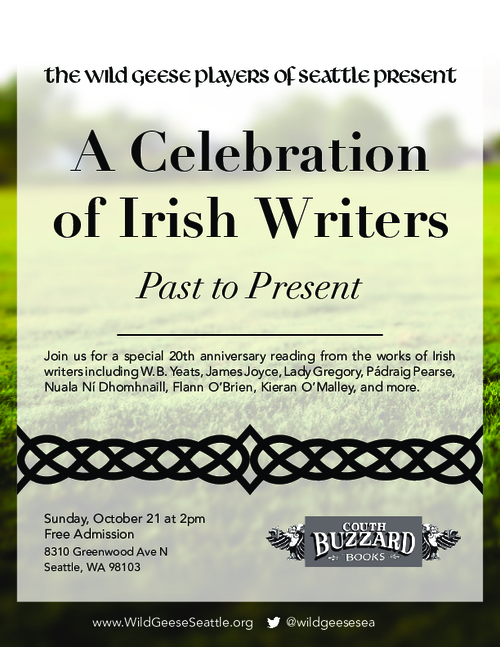 A Celebration of Irish Writers: An afternoon of readings from the works of W.B. Yeats, James Joyce, Nuala Ní Dhomhnaill, Billy Collins, Pádraig Pearse, John McGahern, Flann O'Brien/Myles na gCopaleen, Joseph O'Connor, Roddy Doyle, Kieran O'Malley, and others, by the Wild Geese Players of Seattle.
Founded in 1998 by Kieran O'Malley, the Seattle-based Wild Geese Players have publicly read a chapter from James Joyce's Ulysses on Bloomsday, June 16th, every year since, and proudly celebrate their 20th anniversary with this event.
The Celebration will take place on Sun, Oct 21, 2018, at 2pm at the Couth Buzzard in Seattle. The Couth Buzzard is a bookstore and gathering place for writers, and a venue for literary and musical events.
Sun, Oct 21, 2018, at 2pm
The Couth Buzzard,
8310 Greenwood Ave N,
Seattle, WA 98103

Phone: (206) 436–2960
The public is invited and there is no charge for admission. Yep, it's FREE. The Couth Buzzard also offers a fine selection of beer, wine, and food, as well as an espresso bar.
Please RSVP at the Facebook event.
Sláinte!