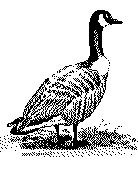 The Other Bloomsday - Seattle 2018
The Wild Geese Players of Seattle will present a staged reading of Chapter 7, "Aeolus", and the first half of Chapter 8, "Lestrygonians", adapted from the 1922 edition of James Joyce's Ulysses, on June 16th, 2017.
Location TBD.
Our annual Bloomsday readings started in 1998. After concluding Ulysses in 2013, we started afresh four years ago. This year, we're reading the second half of Chapter 8, "Lestrygonians", and Chapter 9, "Scylla and Charybdis".
Chapter 8: Lestrygonians
Chapter 8 "Lestrygonians" begins at 1 PM. As lunchtime approaches, Leopold Bloom is getting hungry, and as he makes his way through the center of Dublin his thoughts drift towards food. The chapter is full of references to food, many of them alluding to disgusting eating practices. The chapter is inspired by Homer's depiction of the Lestrygonians, a giant, cannibalistic tribe who devoured many of Odysseus's men.
Commentary
Miscellaneous
Other Wild Geese Events
See our archives for details of our previous readings.